Renting or Buying, What makes Sense?
| | | |
| --- | --- | --- |
| | | |
Medical students , residents, and those on a fellowship forTulane Med School, LSU Med School, Residents at  Charity and Ochsner considering buying a condo or home for your stay. Several things to consider to avoiding 4-5 years of rent !!  Fifty times $800 is 40k It Could easily be much more, 50 times a $1,000 is $50,000.
Appreciation Potential
The last 5 years has seen an average appreciation in real estate assets of 25%. A lot of areas have had much more. The areas where you would relocate have generally been higher. What does this mean to you. Your sales price 4-5 years ago was 150k and your sales price with a 25% gain would be 200k , which means you would make some money in addition to the tax benefits of owning. It gets even better because this gain is tax free if this was your residence for 2 years. You also get the money paid as equity when you leave. The gains will change depending on a number of things. Your rate of change will depend upon location more than all else.
In todays market with a one or two percent appreciation it still makes sense. The apprecaition of a 200k condo at 2% per year is still $4,000 per year.
 Where am I going to find  a condo or house for XXX Price?
That is where a good agent can help you. One that has done this a number of times. Some areas you will be priced out of the market. Some areas the commute will be too far for you. Some areas will not be nice. We do this everday so we know the areas that will most likely have what you want. Our job is to narrow your choices down to the best availiable one at that time. We will point out the pluses and minuses of each so you can make an educated decision. The internet will help us introduce the choices to you so we can narrow the choices down. 

The resale factor should be a major consideration so having an agent that knows what is going on is a must. I pride myself in finding things that will appreciate and will tell you which ones are going to be much harder to resell based on my experience and many sales and resales in this area.

Security and Safety
This security issue should be a big concern for your safety and future value of your purchase. There are reports available but your Realtor should be able to help you with this. It is always good the drive the areas around you neighborhood in the daytime and nite time to see what is going on. let your instincts be your guide. Larger complexs are gooing to have more security by their nature. There are however many other types that are alos very secure and safe.
Carefree Condo or Small Home 
Both the home and Condo will be a good decision in terms of the investment angle. It depends upon the lifestyle you want. If you enjoy working in a yard and fixing things up around a home then a home is a better choice. If you want a more carefree type of housing then a condo may be a better choice. The condo is going to be more for your money because the cost of the land is not the large factor it is with a home.

With the high of homeowners insurance amny of my clients have been going the condo route if that fits them. The condo fees are often much cheaper than the homeowners insurance alone. This should be a large consideration.
 Life style of your Own
Choose the areas where you will be comfortable. Are you an outdoors person? Is your spouse going to be home all day?. Can you have pets. Is most of your time going to be spent studying?
The neighborhood in which you live will heavily dictate your whole way of life-things like walking to a nearby park with your kids, knowing your kids are attending good schools, feeling safe when your children play outdoors, being close to restaurants and shopping, enjoying a short commute, and knowing your home will appreciate at a healthy rate. Of course one way to get started in your neighborhood search is to get in your car and explore, especially if you're unfamiliar with the area. Get an idea about the neighborhoods by driving around and seeing which areas appeal to you. Walk around, explore, and talk to some of the residents.Take note of the general appearance of the homes. Are they well maintained? Are they nicely landscaped?
If you have children, you might be looking for a neighborhood with plenty of children around, as opposed to neighborhoods that attract more seniors or young singles.Other factors you'll want to consider are the schools, crime, your family's specific needs, and appreciation - as in how much the value of the home is likely to increase.
 Tax Benefits of Owning
The tax benefits of owning are because you can deduct your taxes and interest on your federal and state taxes. You cannot deduct condo fees. If you are in the 20% bracket then your deduction is worth 20% of your total interest and taxes. Lets say that comes to $1000 per month then your monthly savings are $200 per month. This has to be considered as a reduction in your monthly cost. You will also be building equity meaning you are paying down the note even though the number is small in the beginning. You get your equity back when you sell.
 Commute Times
Being close to school and hospitable is important so the areas to consider are uptown/garden district for condos. Looking for houses then the prime areas are  Mature,Old Mature, Lakeview,Old Jefferson,Harahan,River Ridge,and even Kenner is 40 minutes away and an easy commute. Condos are also going to be in these areas as well.
 Schools do Matter
You may not have any kids but schools and their quality are a good indication of the neighborhood and future real estate values. People want to be in areas with good schools and low crime.
 Loans that meet your needs
You can save money on your monthly payment by not getting a 30 year loan but getting a shorter term loan for 5-7 years. You will not be here that long so go with the shorter term loan. The rates will be lower for these. Lenders have a variety of products so check with them on what is right for you. We can direct you to the low fee lenders. There will also be Bond money from the various metro parishes and the state bond commission that you amy be able to take advantage of. Its a big deal 
 Living In New Orleans
"New Orleans is one of the most unusual and most livable cities in the United States. Its rich history colors its present with a unique flavor-architecture, cuisine and tradition are reminders of French and Spanish colonial influences. At the same, time, New Orleans is a growing, cosmopolitan city, a key element in the "New South." It is one of the largest ports in the United States and plays an important role in international commerce, regional finance and the energy industry.

New Orleans is a cultural center in every sense - it is a crossroads for a broad range of colorful local cultures, from bayou Cajun to Creole to New Orleans Jazz itself. At the same time, it offers a fine art museum, the NOMA , the Louisiana Philharmonic Orchestra , the New Orleans Opera Company , a number of excellent art galleries and a broad variety of visiting artists. Music of all sorts abounds, played by street musicians, traditional jazz artists at Preservation Hall, or modern musicians at one of the large number of clubs located here. Much more can be learned at the Best of New Orleans , NOLA LIVE websites or Tulane Medical Center's page on relocating to New Orleans.

For the studious, six universities, Tulane, Loyola, Xavier, Dillard, the University of New Orleans and Southern University of New Orleans, offer a wide range of courses. In New Orleans, an afternoon can turn into an adventure with a walk into the French Quarter to see the sidewalk artists around Jackson Square, a streetcar ride up lovely St. Charles Avenue to the Audubon Zoo, a ladefront picnic, or a visit to the new Aquarium of the Americas. New Orleans has recently been honored nationally as one of ten "All American Cities" by a national organization of Chambers of Commerce. Louisiana is called a sportsman's paradise with reason. Equestrians will find numerous public and private stables in the city and surrounding area. Many residents and faculty take advantage of the warm climate and immediate proximity to the Gulf of Mexico and Lake Ponchartrain. Residents are also free to join any athletic facilities at the Tulane University Reily Recreation Center, which includes a 50 meter pool, indoor track and basketball courts, tennis courts, dance and aerobics rooms and weights.

One of New Orleans' finest traits is its residential quality. Within minutes of downtown are streets lined by stately moss-hung oaks in a variety of quiet, residential neighborhoods. Suburban living is readily accessible by bridge and freeway in the new residential areas of New Orleans East, Jefferson Parish [County] and the West Bank. "
Airline highway becomes Tulane Ave when you come to the Parish Line so you can see the area is compact. The Medical schools and the Universities are all easily assessable from East Jefferson, Lakeview, and the uptown areas.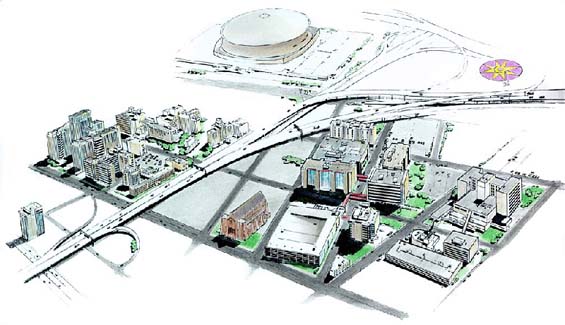 Save your favorite homes
Get new property alerts
Share with friends and family

Find and compare local neighborhood home values